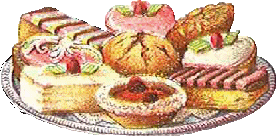 Today is my menu planning day, so here is what I have come up with for the fortnight ahead! I love planning what I will cook for my precious family ahead of time

-

it means if something happens out-side the ordinary, it'

s

all okay! Life still goes on without having to pay for expensive take aways! If there is one thing I hate, it's when life does take an unexpected turn, and I have to go out on top of eve

rything else and get some take aways!
Tuesday

Joshua's Take Aways
Wednesday
Fish Cakes & V

eggies
Thursday
Ham & Cheese Crosants
Friday
Lamb Chops & Veggies
Saturday
Potatoes with Cheese &

M

ince
Monday
Cannell

oni & Veggies
Wednesday

Roast Rolls &

W

edges
Thursday

Honey & Soy Chicken & Veggies
Friday
Fried Rice
Saturday
S

hepherd's

Pie & Veggies
Monday
Lamb & Noodles & Veggies
Tuesday

Joshua's Take

Aways
So what is on your menu for the fortnight

?